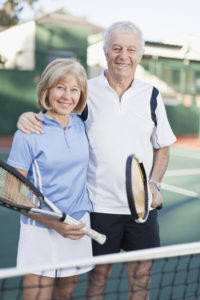 Active adult living is best described as becoming a valued member of a 55+ community. Within 55 plus communities in Colorado and Utah, homeowners can engage in various activities such as volunteering, art and cooking classes, and events such as socials, dances, concerts, book clubs, fitness classes, hiking and biking clubs, and community meetings. Age-qualified residents in over 55 communities in Colorado and Utah enjoy retirement-friendly social opportunities plus resort-style living with minimal upkeep.  Homes designed for adults ages 55 and older often have bedrooms and laundry on the main floor, which means no more climbing steps.  Single story homes created for older adults that are nearing retirement have many low-maintenance features built in such as xeriscape yards, zero curb entry showers so there is no tub to scrub, self-cleaning ovens, tankless hot water heaters and more.  These new single-family homes are designed to give the homeowner more free time, away from the home and into the community.
To encourage engagement in the 55+ community, new residents are encouraged to make friends with neighbors and build a support network within the community. Shared interests and social environments create opportunities to interact socially with as many people as possible. The aim is to integrate new neighbors into a cohesive group that can replace feelings of isolation with a sense of community. The biggest fear many adults aged 55 and older have is leaving what is familiar.  But joining a new active adult community doesn't have to be daunting.  There are hundreds of homeowners your own age, in the same stage of life, who are eager to instantly connect with neighbors who have been where they have been and want to share their stories with someone who can relate.
Planned social activities within 55 and over communities near me in Colorado usually include social gatherings, playing games, and taking up new hobbies, such as biking or hiking. Other shared activities may consist of:
Traveling in groups.
Joining social cliques.
Going on cruises.
Attending wine tasting events.
Cooking Together.
Even visiting shops, restaurants, parks, golf courses, pickleball courts, and clubhouses often lead to new social opportunities.  Many older adults are intimidated by joining a new community, let alone trying a new sport or hobby.  That's where the 55 plus communities really shine.  Active Adult communities hire world-class Lifestyle Directors.  These talented organizers specialize in creating events and activities that appeal to every homeowner, no matter their athletic ability, work profession, or skill level.  They encourage residents to try something new, set fitness goals, make learning fun, and will connect neighbors with others who have the same interests.  Even if members are shy, a skilled Lifestyle Director will pair that homeowner with a more outgoing member who can bring them out of their shell.  No matter your age, it's nice to have someone advocating you, holding your hand, until you feel more comfortable at social gatherings.  That's why 55+ communities are becoming so popular.